Making it all about YOU is what we've been about since 1964!
Because it's all about you. Columbus Optical has built their family business around you and every patients expectations. Our in house lab produces state of the art HD digital lenses for your added comfort. It is what you have come to expect from Columbus Optical.
Each pair of glasses or contacts sold has not been to make us look successful. For fifty years it's been about making you and thousands of our customers like you see better and be successful while looking great.
We think you're smart not to be deceived by advertisements offering free eye exams and two pair of glasses for a low price. What's the catch? You are wise also not to fall for cheap glasses while in a big box optical department store or visiting an unknown eyewear merchant in cyberspace.
After you see all our website has to offer you, please check us out so any questions you may have can be answered by a professional Board Certified Opticians in person.
Since 1964, proof has been mounting that success in the optical world comes only when every aspect of the business hinges on total customer satisfaction. Customer loyalty is earned here daily.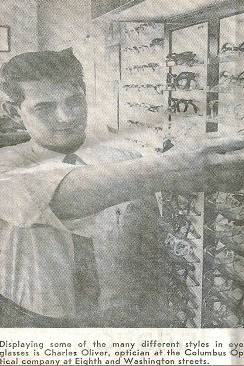 Since 1964
Generations of satisfied people keep coming back for Quality Service, Value and Style in eyewear.
All the brand and styles of prescription and non-prescription sunglasses you could ever want are here.
The most technologically advanced digital HD lens processing in Indiana is done on site.
ABO-certified opticians oversee our on-site optical laboratory.
Our Doctors of Optometry perform eye exams for all types of visual needs and abnormalities. Call for sames day emergency help.
Frame adjustments are done at no charge. Frame repairs and soldering done in house at reasonable prices.